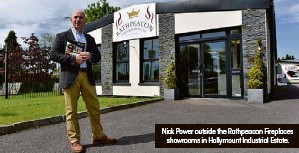 Nick Power outside the Rathpeacon Fireplaces showrooms in Hollymount Industrial Estate.
All customers and clients of Rathpeacon Fireplaces & Stoves can be assured of one thing – personal service. Having survived and prospered over the challenging economic times of the past eighteen years, owner Nick Power credits customer goodwill as being the main driver of this business located at Hollymount Industrial Estate, off Old Blarney Road in Cork. "We have always been dedicated to dealing honestly and expertly with the needs of our customers, and that has served us well from the beginning," Nick explains. "I have always believed that you are only as good as your last job, and offering top quality products with 24/7 service will always be the foundation of what guides Rathpeacon Fireplaces & Stoves."
Like all successful small businesses, Rathpeacon Fireplaces & Stoves is a family affair, and Nick's wife and co-director, Susan, is an integral part of the organisation. "Behind every good man is a better woman," Nick says "Susan's contribution to the Company ensures a smooth day to day operation of the business." Given the Irish climate – and particularly the recent turbulent winter weather – having an efficient and well heated home has never been more important. "Irish people always have a special place in their hearts for heating and fireplaces, and that has become more so in recent years with the arrival of stoves into the Irish marketplace. Diversifying the business into the wide variety of stoves on the market has helped Rathpeacon Fireplaces & Stoves immensely. I am constantly educating myself to meeting the required environmental standards and providing the most energy efficient products," he says.
While his customers are mainly from Cork City and county, Nick Power has installed stoves and fireplaces all over Ireland, from Dublin across to Wexford and Kerry up to Galway. "We have worked all over the country, including places like Bere Island, Dingle and up along the West – our motto is: 'No job too big or small, the boys from Rathpeacon will fit them all.' And that really is the truth." Building up a small business is a 7 day operation, a sacrifice Nick and Susan willingly committed to in getting Rathpeacon Fireplaces & Stoves to where it is today. "Happy and satisfied customers are the best advertising you can buy, and it has always been a core value of what we do. So much of our trade is repeat business, and many people whose fireplaces or stoves we installed years ago are now sending their children to us. You can't get better than that."
Rathpeacon Fireplaces and Stoves install all their own products and do not use contractors on any of their jobs. In fact, each job is completed by Nick himself. With an obvious dedication to his craft, Nick credits much of his success in business to advice given him back in the early days of Rathpeacon Fireplaces & Stoves. "An older man I used to deal with told me, 'If you're going to do it, do it right.' It was simple advice, but they are words I've never forgotten." In addition to a work ethic where 'the customer is always king', Nick and Susan credit the benefits of having good staff as another key to making Rathpeacon Fireplaces & Stoves such a success. As the company moves closer to the major milestone of twenty years in business, the same dedication that marked their first year is still evident today. "We are what we are due to the support of the people of Cork – they have kept us going through good times and bad, and we return that support by always giving a standard of service that is second to none."